As I ponder our recent 14,454-mile journey across seven times zone to Kampala, Uganda, the only word that even begins to come close is "surreal."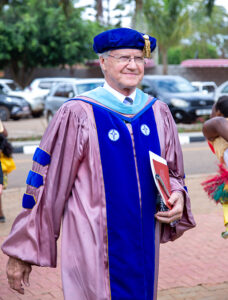 I, along with LBC | Capital President Thomas L. Kiedis and several colleagues celebrated the graduation of 24 pastors who earned their Master of Arts in Contextualized Pastoral Ministry from Lancaster Bible College | Capital Seminary & Graduate School in partnership with the Pastors Discipleship Network (PDN) in Uganda, an organization founded by LBC alumnus and former Compassion child Dr. Richmond Wandera ('20).
PDN is an organization that has become recognized as the leading voice in East Africa, bringing training to 15,322 frontline pastors who represent 1,838,640 people in their churches. Fifteen denominations are networked under Dr. Wandera's leadership through PDN, for the equipping of pastors and guiding of missions across Africa. This was my third trip to PDN, and what happened was so much more than we could have hoped or imagined.
To have the opportunity to be in the ancient settings of central Africa and a city in the global consciousness for a July 2010 terror attack that left 74 dead and 70 injured at a World Cup soccer match was surreal. A country seared by the notorious tyrannical reign from 1971-1979 of despot Idi Amin, the Ugandan president who brutally slaughtered an estimated 500,000 countrymen. Uganda is the "pearl of Africa," and Kampala is the capital with over 7 million people. The city is a mix of exquisite beauty with dusty dirty roads and thousands of storefronts selling everything from mattresses to fruit and vegetables to homemade furniture. The people's smiles are beautiful, and their gracious hospitality is unequaled.
A place where the roads are predominantly clay, red dust and gravel with few traffic lights or stop signs; and a 20-mile journey to the Entebbe airport can take nearly four hours. Today the epicenter of world evangelization has shifted to Africa, where there are 85,000 pastors.
To see their beautiful Ugandan faces and smiles, and to witness remarkable resilience while living in conditions that squalor would not begin to define, was surreal. To be the recipient of their humble generosity in celebrating our visits to their homes where entire families live, cook and sleep in spaces smaller than most of our living rooms.
To watch 24 pastors crossing the platform with a LBC | Capital banner waving beside them was surreal. To celebrate the awarding of their master's degrees was a blessing beyond words. Even more, to see how their families and communities celebrated their accomplishments in their unique traditions was a rare invitation into authenticity, and those memories have indelibly marked each one on our team.
To worship among hundreds of beautiful Ugandan hearts at New Life Church in Kampala City who are determined to bring the good news of Jesus Christ to a community with 200 brothels in a two-mile radius, determined to provide life-giving alternatives to the domestic violence, gambling and substance abuse that dominate its neighborhoods.
I was reminded over again that the Church is expansive, and God's plan is being revealed everywhere. I learned the power of 24 pastors completing their degrees presented the opportunity for some of central Africa's spiritual giants, including the retired Archbishop of the Anglican Church of Uganda, Henry Luke Orombi, and Commencement speaker Lord Justice Mike Chibita Judge of the Supreme Court, to see what God is doing through the Pastors Discipleship Network and be amazed. This group of pastors will literally reshape the future of their country and influence the entire continent for the cause of Christ.
To realize that God gave this opportunity to our little band of leaders from Lancaster, Pa., was more than surreal; it is at once incredibly humbling and exhilarating. That old adage once again came alive in my heart that one person can make a profound difference wherever they are.
View a gallery of Uganda graduation photos below…