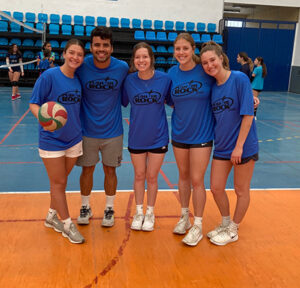 Feliz año nuevo! Team members from the Lancaster Bible College's men's and women's volleyball teams rang in the new year over 3,400 miles from Lancaster County in Tenerife, Spain. There, they spent 10 days ministering to the local community through a shared love for the sport of volleyball.
"I loved my time in Spain sharing the gospel," said Chloe King ('23), a member of the women's volleyball team. "It was amazing to be able to use volleyball as the common ground, which then segued into sharing the gospel. I always pray that God provides me opportunities to use my volleyball skills to glorify Him and praise His name, and Spain was an awesome opportunity for this."
LBC partnered with Push The Rock, a global sports ministry organization based in Emmaus, Pa., that "proclaims the life-changing message of Jesus Christ through the pursuit of excellence in sportsmanship and athletics."
While in Spain, LBC's student-athletes had the opportunity to share the gospel by leading a number of volleyball clinics at a local sports club, Arona, where they taught the players various skills and also ran games and drills. Prior to the start of each clinic, LBC players were able to set up matches with the local athletes and build relationships with them. In the evenings, the athletes had the chance to play friendly volleyball matches.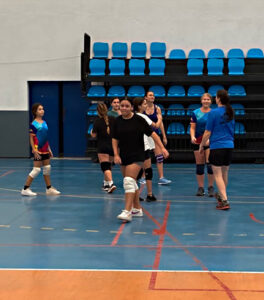 "Sometimes the practical application of using a sport, such as volleyball, as the vehicle to connect with people and share your faith can be lost here in our day-to-day lives," said Jade Brubaker, Men's Volleyball Head Coach. "This trip was great in that we got out of our comfort zone and had the opportunity to use volleyball to bring people together."
With volleyball as the common connection, many of LBC's players were able to use their own testimonies as a way to connect with and reach the local community.
"We had many opportunities to share the gospel with them, which was amazing," said Julie Brubaker, Women's Volleyball Head Coach. "We just loved on the people there through volleyball."
One specific way the teams witnessed to the local community was by passing out "Love One Another" bracelets, which included four representative charms: a heart (the love of God), a divide symbol (sin divides us from God), a cross (where Jesus paid the debt for our sins) and a question mark (asking, "What path will you choose?").
"We left Tenerife praying that God will use those relationship and connections we made to stir the hearts of the community of there to salvation in Him," said Jade Brubaker.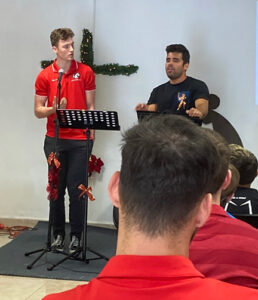 The group was also able to encourage the local church in Adeje, Tenerife, by working alongside the pastor, Alcides, his wife, Zulema, and their son, Sajid, who provided the LBC teams with housing and home-cooked meals throughout their stay. A couple of the men's volleyball players were able to help during the Sunday church service, one by helping to lead worship and another by sharing his testimony.
"The LBC trip to Tenerife was an incredible experience," said Tanner Shertzer ('23), a member of the men's volleyball team. "There are few things in this world that can bring people together like sports can. I have found that sports like volleyball open the door for me to show the love and kindness of Christ, even when there are obstacles and challenges standing in the way.
"It is hard sometimes to know whether what you are doing is making a real impact," Shertzer continued, "but I believe that God is using the time we spent in Spain playing volleyball with those kids to further His kingdom and make His name known."
While in Spain, the teams also took the opportunity to soak in the culture. There was time for them to enjoy a day at the beach, take a hike and do some shopping at the local flea market. They enjoyed a dinner out on New Year's Eve, followed by taking in the fireworks show on the beach. The team also participated in two sand workouts with a local strength trainer throughout their time there.
"The trip drew us closer together and allowed us to be vulnerable and connect on a deeper level," said Jade Brubaker. "The trip for us was both challenging at times but also meaningful. Anytime you are in another country, with a different language, trying to connect and build meaningful relationships, it can be difficult. I thought our team did a great job through those challenges to connect with the missionaries in Tenerife, the local community as well as the young boys and girls who attended our camps. Those connections are what made this trip so meaningful."
Julie Brubaker echoed the sentiment. "We were thankful to use volleyball as the main avenue to share God's love, share the gospel and share our service," she said. "Our team was impacted, and we hope the impact is felt long after we have left."