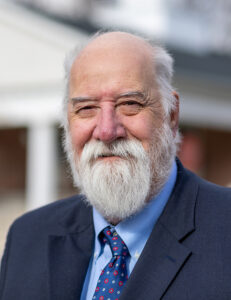 Lancaster Bible College | Capital Seminary & Graduate School has named Calvin Reed ('78) the 2022 Alumnus of the Year. Reed, who earned his bachelor's degree in Pastoral Studies, has served in ministry for 40 years.
After LBC, Reed went on to earn an MDiv and also took DMin courses at Biblical Theological Seminary, now Missio Theological Seminary in Philadelphia, and was also bestowed an honorary doctorate from Missio. He will soon retire after four decades at Lebanon Bible Fellowship Church (LBFC).
After completing his graduate work, Reed began serving within Bible Fellowship Church, first in Reading, Pa., then in Lebanon. Under Reed's longtime leadership, Lebanon Bible Fellowship Church is "committed to equipping the saints and reaching the lost with the gospel so that men and women can become committed disciples of Jesus Christ, in fellowship with God and one another."
As the Senior Pastor at Lebanon Bible Fellowship, Reed currently works with two other LBC | Capital alumni on the pastoral staff: Jarrod Cruise ('17) and Eric Herb Jr. ('21). Multiple LBC alumni and current students call LBFC their church home. Reed also previously served as Chairman of the Board at Biblical Theological Seminary.
While at LBC, Reed served as the Student Council Chaplain for a year as well as the Junior Class Chaplain. He participated in choir and Wayfarers, a traveling singing group of about eight students. He was also part of the Pastoral Interest Fellowship for three years, led tours for prospective students through the Student Service Corps and was a student representative on the Middle States Commission on Higher Education team when the college was working toward accreditation.
Calvin and his wife, Bonnie, have three daughters and three sons-in-law, all of whom attended or graduated from LBC | Capital: Sarah (Reed '03) Brandt and David Brandt ('03), Susannah (Reed '06) Lynskey and Matt Lynskey ('04), and Ruth (Reed, attended 03-04) Merrick and Nick Merrick ('07).
Reed credits Bible & Theology Professor Dr. Harold Kime ('70, '71 & '75) for helping to prepare him for his time in ministry. At LBC, Reed shared, he was taught how to formulate argumentative outlines of Scripture, which he still uses in his preparation for preaching today.
Over his ministry, Reed taught Sunday school and preached on both Sunday mornings and evenings on a regular basis. It is estimated that he prepared and delivered over 5,000 messages and lessons. In addition, he has done extensive studies in the area of expository preaching.
A Charger athletics fan, Reed enjoys attending LBC volleyball and basketball games to support the students in his congregation. He describes himself as a lifelong learner and is looking forward to the possibility of teaching in retirement.
Learn more about Calvin Reed through this Q&A:
LBC: How did LBC help prepare you for your role in ministry?
CALVIN REED: LBC helped to promote my love for and confidence in the Word of God and played a great role in preparing me for my seminary studies. I was well-equipped academically to enter into a theological education at a master's level. I was blessed to have many godly examples of men and women who were sincerely committed to the cause of Christ and who  were dedicated to enriching and equipping their students.
LBC: How have you seen God work in your ministry?
CR: There are many ways in which I have seen God at work over the years. The maturing of believers, the healing of relationships, people coming to faith in Christ have all been the work of God who is the source of all blessing. I have also taken great delight in seeing the number of young people in our congregation that God has called to  be missionaries and pastors. I have seen that God is truly good, gracious, faithful and sovereign.
LBC: What do you enjoy most, and what will you miss the most, about being a pastor?
CR: I certainly enjoy the study and  preaching of God's Word. I will miss preaching on a regular basis. I will also miss the unique pastoral relationship that I enjoy to others. I realize however, that I will still have the opportunity to be a help and encouragement to people. One does not have to be a pastor to be concerned for and involved in the lives of others. We all have the privilege of being instruments of  God's grace to one another.
Congratulations, Calvin, on your honor and your upcoming retirement!