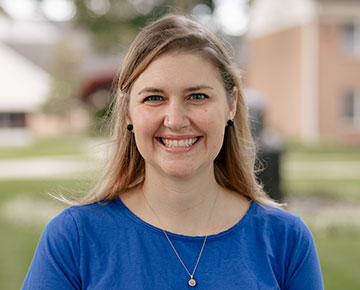 Lancaster Bible College | Capital Seminary & Graduate School desires its students to grow both spiritually and professionally in their academics. The Women in Ministry Leadership (WML) program is no exception to the underlying mission at LBC | Capital. Rooted in biblical teaching, the WML major is focused on growing women in their faith journey so they can encourage others in their ministry or career.
WML Program Director and Professor  ('07) says, "My prayer is that my students will be faithful disciples of Christ, teaching others to follow Him by their word and lives."
Here are 5 interesting facts you may not know about LBC | Capital's Women in Ministry Leadership program:
1. Flexible as a minor or major
LBC | Capital may choose Women in Ministry Leadership as a major or minor. Students can decide how this major best suits their academic goals and how it can be applied to their career path. Lindsey Harrell ('21) explains, "I chose to major in Women in Ministry Leadership because I knew that God has called me to ministry and that what I have gone through in the past would allow me to make an impact for His kingdom."
2. Cultivates a strong female community
Within the WML program, women can connect with one another to grow a sense of community and relationships "We are taught that there are many individuals who get caught up in what women can and cannot do in and out of ministry," Harrel says. "However, Jesus was never the person to label and stereotype."
3. Teaches what it means to be a woman of God
The students in the Women in Ministry Leadership program surround themselves with the teachings of what it means to be a woman of God. Amanda Davis ('24), who has coupled her WML major with Media Arts Production, shares, "The other WML peers I have met are fierce women warriors for the kingdom of God, and their passion for the Lord is inspiring to me."
4. Compatible with any major or minor
This unique program can be paired with other degree options to help create a more personalized degree. Whether students choose to major or minor in Women in Ministry Leadership, adding another option can help to enrich the academic experience. As Davis explains, "I plan to use my two majors together as a way to learn about people's stories to share with the world or at least use them as inspiration for my stories for film." In fact, Strangarity says it's wise for every female student at a Bible college like LBC to have an understanding of Women in Ministry Leadership, perhaps as a minor.
5. Various internship options
Many career and ministry opportunities exist through the WML program, evidenced by internship experiences available to LBC | Capital students. Just a few internships WML students have completed include serving as a Christian camp counselor, in a pastoral internship or as a children and women's ministry intern.