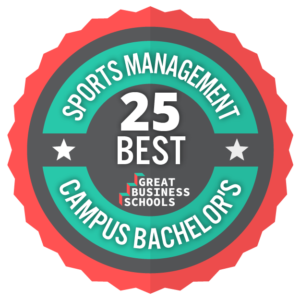 The Sport Management program at Lancaster Bible College | Capital Seminary & Graduate School has been named to the 25 Best Sports Management Degrees in America by GreatBusinessSchools.org.
According to Great Business Schools, "With athletics standing as one of the biggest businesses in America, a career in sports management looks like a perennial favorite. If a person considers a sports management degree, he or she may wonder if it's worth it … With a sports administration degree, particularly a bachelor's, a person has the option of becoming an athletic coach, athlete development specialist or an athletic director. It could be the start of a person opening his or her own gym or fitness center. A person may also choose to earn a teaching certificate and teach athletics in a private or public school."
Dr. Vickie Byler, Interim Chair of LBC | Capital's Health & Physical Education Department, says that sport has the ability to bridge the culture gap around the world while being a platform for finding common ground.
"We are thrilled to be named among the list of the top 25 programs in the field of sport management and have worked hard to create a comprehensive program both in the classroom and with field experiences for our students," said Byler, right. "With Lancaster Bible College being centrally located among the Philadelphia, Baltimore and Washington, D.C., areas, we have a hub of organizations where students can receive hands-on field experiences and mentoring as well as develop a network of professionals in the field for future career placements."
She added that the flexibility of LBC | Capital's Sport Management program—in a fully face-to-face setting on the Lancaster campus as well as a fully online option—meets the needs of both traditional undergraduate students and adult learners. The college's Sport Management studies are led by Assistant Professor Amanda Zuschmidt, who also acts as the liaison with the Commission on Sport Management Accreditation (COSMA), the accrediting body of the college's Sport Management degree.
Byler also noted that the sport industry has seen steady growth since 2015, reaching a high of $458 billion in 2019. While the pandemic in 2020 had a significant impact on the industry, it remains close to a $400-billion-a-year business.
Great Business Schools reported that Lancaster Bible College offers a Bachelor of Science in Sport Management and Biblical Studies "that is considered among the best sports management degrees from a Christian-centered institution of higher education. Lancaster Bible College's undergraduate sports management program has received accreditation from the Commission on Sport Management Accreditation. Previous internship experiences for degree candidates included working at Cal Ripken's Baseball Clinic or Spooky Nook"—the largest indoor recreational complex in North America.
Byler shared that LBC | Capital Sport Management students are also interning with the Reading Fightin' Phils Minor League Baseball team during the summer of 2021 and have interned in the past with the Lancaster Barnstormers of the Atlantic League of Professional Baseball, a partner league of Major League Baseball.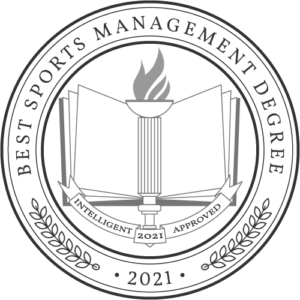 Earlier in the spring of 2021, Intelligent.com, a trusted resource for online degree rankings and higher education planning, announced the Top 50 Sports Management Degree Programs for 2021, for which LBC | Capital was ranked at No. 6.
According to Intelligent.com, "Students who pursue any one of these programs can expect to gain employment much quicker in comparison to candidates without a degree. In addition to accessibility and cost, the steady job growth in this market is one of the many reasons Intelligent.com researched and ranked the Top Sports Management Degree Programs."
Yet another coup for the college's program, four LBC | Capital Sport Management majors were recently inducted into the Chi Sigma Mu Honor Society of COSMA.
Judith Breeze ('21), Kendra Brown ('21), Hunter Gerber ('21) and Mitchell Smith ('21) were honored during a virtual ceremony hosted by Oral Roberts University and the University of Houston in February. Students who maintain grade point averages of 3.5 or higher are honored and receive COSMA cords to wear at graduation this spring, set for the Lancaster campus on May 7, 2021.