Faith Ribaudo ('20) is a life-long Lancaster County native. But this 25-year-old online student is balancing a new job, volunteering and homework like an old pro. But Ribaudo's journey with the college actually started several years ago, in 2012, when she was a traditional undergraduate student, fresh out of high school. After she suffered a serious concussion as the result of an accident, she decided she needed to take hiatus from school to focus on her healing. "When I first got my concussion, I didn't think it was that big of a deal – so I didn't really do anything to try and treat it," she explained. "But more time passed and I still wasn't seeing any improvement in my memory. I knew I wanted to do well in school and not being able to remember anything was causing me to fail a lot of my classes.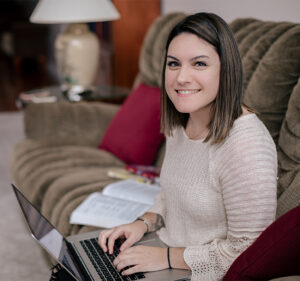 After a long recuperation period – about five years – she decided to re-enroll at Lancaster Bible College, this time as an online student. "It fits perfectly with my work schedule and I'm able to do the schoolwork while still bringing in an income," said Ribaudo. "[The schedule] has even worked well through job transitions!" While she's currently pursuing an online degree in Bible with a minor in human services, she has higher aspirations.
"I'm hoping to eventually earn a counseling degree," she explained. "My passion is to help those who are hurting or struggling work through their thoughts and emotions to figure out healthy ways to cope and heal. I have found that most often, people respond the best when you are simply willing to listen to them."
As someone who's worked and volunteered with teenagers extensively, she's certainly had the chance to exercise this skill. "I've been I also have volunteered with my church's youth group for the past seven years helping to lead life groups for high school girls," she said. "Working with the girls in my group has been so rewarding and I love them all dearly. It's so cool to walk through life with them during some of the hardest and most confusing years.
"Some of them have gone through some pretty heavy stuff that teenagers just shouldn't have to go through. I've had the privilege of helping them through those times and as hard as it is, it's shown me how much I enjoy walking through those difficult things with them. All of the time I've spent investing in these girls has affirmed in me my desire of becoming a counselor and how rewarding helping people can be. It's also amazing to be able to pour into young girls' lives and share Jesus with them. Not many people get the honor of helping to lay that biblical foundation in these teens, and I am so thankful that I get to be part of that."
As Ribaudo leaves her current job behind at TNT Youth Ministry where she's worked closely with teens and steps into her new role as an administrative assistant and Lancaster General Hospital, she said she was surprised by how often her coursework has related to her actual work. "There have been times of significant overlap on what I learn in school to what I'm facing at work," she explained. "It's cool to see practical ways of how to apply what I'm learning. You don't always have that opportunity with school and your job." Of course, studying online comes with its own challenges. "The most challenging part of doing school online is that you have to be extremely self-motivated. When I first started, I was worried I wouldn't be disciplined enough to push myself and do the work," explained Ribaudo. "It can also be difficult if you don't fully understand an assignment and don't have the professor right there to ask for help, but they are really great at responding in a timely manner."
Since she's navigated the process of applying to LBC not once, but twice, here's what Ribaudo's advice is to prospective online students: "If you are seriously considering going for a degree online, find an academic advisor and ask ALL the questions you can think of! I was curious about the program and I live locally, so I stopped by the school and simply had a conversation," she said. "There were a lot of unknowns for me going into this program, but after talking it through with an advisor, I felt better about my decision. I wanted to take that next step in my education and, ultimately my career, and I knew this was the way I was going to achieve that."
So, was this the right decision for Ribaudo? "Choosing to take the leap into LBC's online program was one of the best decisions I've made," she said. "I've enjoyed so many of my classes, and honestly, this is the best I've done in school in my life. Having the ability to do the work on my schedule has helped with my attitude towards my education and also my career. It is only by the grace of God that I've done as well as I have and I am so thankful that He's brought me to and through this process."