Christina (McLaughlin '13 & '16) Goss has a lot on her plate, but having a heart rooted in Scripture has helped her prioritize life as a wife, mother, Teaching Assistant at LBC and more. After first earning a bachelor's degree in Women in Christian Ministries in 2013, Christina went on to earn her Master of Arts in Ministry with a focus in Children & Family Ministry in 2016. Since then, she's married her husband and become a mom to two little ones—aiming for a faith-life balance that is pleasing to God.
 Q: You're a mom, Teaching Assistant at LBC | Capital, blogger, run an online shop and serve in your church. How do you balance it all?
A: Honestly, I don't always balance it all. One of the biggest lessons I'm leaning in this season of life is that it's not always possible to keep all the balls in motion at the same time. So, sometimes, there are things that intentionally get put down so I can give my attention where it is most needed. The only thing I never compromise or give up is my family. At the end of the day, I'm replaceable everywhere but my home. I am wife and mama first, and everything else comes second.
Q: What have you enjoyed about helping to teach LBC students at your alma mater?
A: This will be my fourth semester of being a Teaching Assistant in the Church & Ministry Leadership Department, with a specific focus on the Children & Family Ministry program. This semester [spring 2023], I have the pleasure of serving the students in an Introduction to Children & Family Ministry course and a Discipleship of Children course. My favorite part is learning alongside the students and being challenged to reevaluate my own ministry to my children on a daily basis. When I was student, a professor challenged our class to be lifelong learners and never assume we had "arrived." Those words have never been truer than when I became a parent, and I am loving the practical opportunity to learn and grow while navigating this season of mama to littles.
Q: After earning two degrees in ministry at LBC | Capital, what were some of the key takeaways you gleaned from your professors that carry through to your work today?
A: Scripture. I never understood or appreciated the value of being so deeply saturated in Scripture at every turn while I was a student and even when I worked [at LBC] as a Resident Director and the Student Activities Coordinator. From classes, to chapel, to dorm meeting devotions, I have often found myself recalling Scripture that soaked into my heart during those years. This season of motherhood doesn't always lend itself to hours of Bible study as I tend to my babies, pick up that basket of toys for the eighth time and wash more laundry than I knew was possible. But, there is so much rich truth that the Lord allowed me to glean while at LBC that often comes to memory when my weary heart needs it most.
Q: Tell us how you got into running the online shop, coleandcoshop.com. Who is it geared toward, does it support artisans, and what are some community connections?
A: The Cole & Co Shop is dreamed out of a desire to be a stay-at-home mama and have a productive home at the same time. After the birth of our daughter, Addison Nicole, I wanted to start something that could be a legacy passed to her when she was older. Thus the name "Addie Cole & Co."
It doesn't have a specific audience, it's really just an overflow of my passions and hobbies. I love to make beautiful things for my home, so I thought this would be one way to bring beautiful things into other people's homes as well.
(Note: Addie Cole & Co. is offering certain projects as of winter 2023 that will benefit family in Christina's town.)
Hope for Hailey is a heart project for some friends who are facing a difficult path right now. She's a dear friend battling lymphoma that was discovered during her recent pregnancy. She was able to deliver her son early to begin her treatments, and he is now home with them. God is so, so good. Hope for Hailey is just a small way of continuing to show support to the family and providing a way for our community to show their support, too.
Q: Please introduce us to your family and your life in Maine.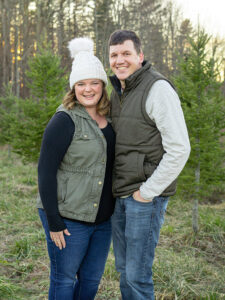 A: I was born and raised in Maine, so this is truly home. But Pennsylvania was home for a season, and that's where I met my husband. After I finished my master's degree at LBC, I took a job as a Children's Ministry Director at a church in southern Lancaster County, which is where my husband, Benjamin, attended. We met that summer on the church volleyball team, and the rest is history. We were married May 4, 2019, and welcomed our daughter into the world the following March 2020.
We moved to Maine a year and a half ago for my husband to take a new job. At the time of the move, our daughter was 1, and I was pregnant with our son, Everett. Now we're a family of four living in Midcoast Maine with our dog and six chickens. My husband works for a snow plow company and serves as a volunteer firefighter for our local department. We're active members at my childhood church, were we are growing some amazing friendships and connections with our community. We're neighbors with my brother and his family, less than 10 minutes from my parents and even closer to the ocean.
We love living on the coast of Maine, being near family, and are putting down some roots for the long haul. We certainly miss the friends and family we left behind in Pennsylvania, but the Lord has us exactly where we're supposed to be in this season.
Q: To you, what is the best thing about LBC?
A: All good things come from the Lord. Everything about LBC that is good and wonderful is a direct testament to the Lord's hand at work. My life was changed dramatically during my time as a student, an employee and now as a TA because of the commitment that LBC has to putting the Lord first and using Scripture as a guide in all things.