Lancaster Bible College's Communication & Media Arts Department is encouraging student creativity through the new Christian Student Communicator Awards, with winners receiving LBC scholarships!
Open to U.S.-based students in grades 9 through 12, regardless of the setting—public, private, homeschool, etc.—the awards will seek to foster creativity in video, graphic design, writing and more.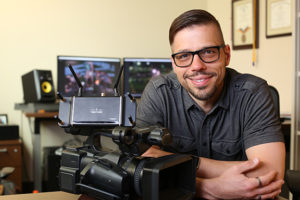 "The CMA department wanted to develop a way to encourage, celebrate and reward talented Christian high school students in their pursuit of excellence in communication and media arts," said Ryan Geesaman, chair of the Communication & Media Arts Department. "At the same time, we are always looking for opportunities to connect with students who might find a place at LBC after high school. Ultimately, through these awards, our goal is to nurture great work that communicates God's story of hope, whether directly or indirectly."
Prizes will be given for first, second and third place and include LBC tuition scholarships as well as scholarships for LBC Communication & Media Arts camps.
Work should encompass the theme for the 2023 awards—hope—and students may submit their individual original work, created no earlier than the student's eighth-grade year, through Dec. 15, 2023 at christianstudentcommunicators.com.
The competition categories include the following:
1. Audio/Video/Film—Broadcast journalism, commercial, documentary, social media video, music video, public service announcement, short film, podcast, animation, sound design, live event recording
2. Graphic Design/Photography—Themed photo, sports action photography, feature photography, program/bulletin/brochure/pamphlet design, yearbook layout, social media post, logo, infographic, advertisement, website, cartooning
3. Journalism/Writing—Newswriting, editorial writing, feature writing, sports writing, review writing, script, screenplay, blog
One submission per student accepted. There is no fee to enter, and all entries must be submitted in digital format. Entries will be judged on creativity, technical quality, esthetic quality, coherence and thematic alignment. Announcement of winners will be made no later than Jan. 16, 2024.