Lancaster Bible College's Criminal Justice program equips passionate Christians to help bring restorative justice into the world through their career and their relationship with Jesus. Available in several modalities, including a four-year bachelor's degree on LBC's main campus in Lancaster, as an associate degree, as a minor, as a fully online bachelor's program or as a hybrid program, with a blend of online and in-class instruction, at LBC | Capital – Philadelphia.
What sets LBC's Criminal Justice program apart from the rest? Besides every course being taught from a biblical perspective, students gain the value of getting a Christian college education while learning the basic concepts of the legal system from three perspectives: police, courts and corrections, with areas of focus including forensic investigation, victim advocacy, law enforcement and political science.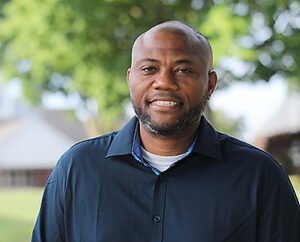 Designed to give students an overview of the criminal justice system by broadly studying the different aspects of the law enforcement, judicial and correctional systems, students graduate prepared to enter this impactful field. Through academic rigor and hands-on training, Christian professionals in LBC's criminal justice program teach students how to live out the gospel in society, excel in their chosen fields and strengthen their faith for the work to which God calls them.
Dr. Jevon Thompson ('10), an LBC undergraduate alumnus, is one of the knowledgeable and experienced professors in the program, which is led by Program Director John Churchville, JD. Thompson has more than 17 years of experience as a campus police officer in the city of Baltimore.
Thompson shared his insights into LBC's Criminal Justice degrees, as well as how internships, guest speakers and his own experiences strengthen the program.
Q: How do your years of experience as a police officer allow you to bring insight to your students?
A: During my police career, the academy trained me to have mental discipline and to be committed to the job no matter how difficult it was because we chose the profession. Police officers must make challenging and mature decisions to serve the public well. I believe those skills are transferable to students because they also have a calling: serving the kingdom of God. It all requires sacrifice and commitment.
Q: What are some of the internship opportunities that help LBC Criminal Justice students get real-world experience?
A: Our students are diverse and are excited to serve in the public sector, including criminal justice. Our program instructors provide mentorship and guidance to many of our students at LBC who have performed internships at law firms, police agencies and human service organizations. We have two unique opportunities for internships right here on our LBC campus. One is the legal clinic, and the other is the Law Enforcement Internship Program, which allows students to receive a hands-on training experience from police and corrections officers on campus. The program is unique because it provides an on-campus law enforcement internship program for students to satisfy their internship credits. Students learn about topics such as policing, corrections, death investigations, forensics and crime scene processing. Through hands-on experience and instruction, students will be prepared to navigate the complexity of the criminal justice system and contribute to its improvement.

Q: How do guest speakers and industry professionals bring Criminal Justice first-hand knowledge to the classroom?
A: Many of our guest speakers are career professionals in criminal justice who bring their real-life work experience into the classroom. They have served many years in the community and are able to share their first-hand knowledge with our student body. More importantly, our guests tell stories about their time working in public service and are always willing to answer questions and network with our students as future career prospects. Our students also learn subject material pertaining to ethics, corrections, judicial law, chaplaincy and law enforcement.
Q: You completed your PhD in Management in the fall of 2022—congratulations! How do your doctoral studies translate as beneficial to your students?
A: My doctoral program was rigorous. It showed me the importance of research and how to be a higher education leader. Because I have completed postgraduate studies, I can teach students the importance of being a servant-leader and understanding policy, management and advocacy in higher education. Also, I had the privilege to write my dissertation on "Addressing Food Insecurity Among Community College Students." My passion is to help students.
Q: What makes LBC | Capital's Criminal Justice program stand apart from the others?
A: What distinguishes our program is that we are like a small family. Our Criminal Justice program believes in servant leadership and uses our gifts in various criminal justice disciplines to glorify God in public service.