Target may be a popular shopping spot for many college students, but one Lancaster Bible College soon-to-be-graduate will be there for reasons beyond shopping. Criminal Justice major Nathan Muckle ('22) landed a summer 2022 internship with Target as an Assets Protection Executive Intern.
Within every company, it is important to make sure customers and staff feel safe. At Target, it will be Nathan's job to learn and implement ways to make people feel protected as they go about their day. Read about the journey that led Nathan to this internship and what he hopes to do with his Criminal Justice degree from LBC | Capital in the future.
LANCASTER BIBLE COLLEGE: Please share about the path that led you to this internship opportunity.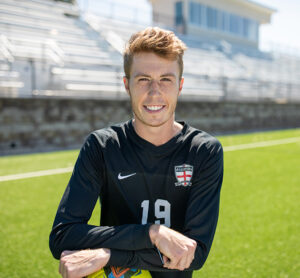 NATHAN MUCKLE: Dr. John Churchville, Director of LBC | Capital's Criminal Justice Program, had been working closely with me to find different unique opportunities for my last internship at LBC. He had a connection at Target, which was looking for students for an internship involving Assets Protection. I was sent the application information, quickly sent in my cover letter and resume, and within two weeks I had two interviews and an offer.
LBC: What will your internship at Target entail and what will you be responsible for? 
NM: As an Assets Protection Executive Intern, I will be responsible for managing a safe and secure culture at Target. This includes crisis intervention, crowd management planning, investigations of theft and fraud, and identifying shortage risks. To do this, I will identify, create and implement strategies to support guests and Target team members.
LBC: How has LBC prepared you for this internship at Target? 
NM: LBC has provided me with unique opportunities to step out of my comfort zone, which has helped me develop effective communication and leadership skills. Being a leader on the soccer team has challenged my creativity and problem-solving skills and given me a deep understanding of building a good culture. These skills and insights will help tremendously as I work at Target.
LBC: How has LBC prepared you for your future career? 
NM: LBC has helped me build a solid foundation for my life and career that will set me up for success. Whether I am leading on the soccer team or learning in the classroom, LBC has taught me to stay grounded in Christ. All my professors and coaches have challenged me to go above and beyond the scope of my assignments and responsibilities and approach every day with an eagerness to learn. Not only do I feel prepared to go into the criminal justice field, but I also feel prepared to glorify God through it.
LBC: What are your career aspirations after graduation? 
NM: My end goal after graduation is to work in the federal government in some manner, ideally the FBI. I would also like to begin coaching soccer and can see myself coaching on the side and maybe full-time eventually.