"Good Day PA," ABC27's daily lifestyle program, featured a report in January 2023 on human trafficking, noting that Lancaster County had the highest number of human trafficking offenses filed in the state from 2017-2021. The program featured a conversation with leaders from She's Somebody's Daughter, which began in 2012 as an awareness initiative about the links between trafficking, pornography and the commercial sex industry. January is Human Trafficking Awareness Month.
In a conversation with "Good Day PA" host Amy Kehm, She's Somebody's Daughter Executive Director Andrea Myers and Director of Development Tanya Pearrell shared that the organization worked with Lancaster Bible College Counseling & Social Work students and faculty on a human trafficking simulation for a Human Trafficking 101 community awareness presentation. Read the original story about LBC's involvement with the trafficking simulation here and watch the "Good Day PA" interview below.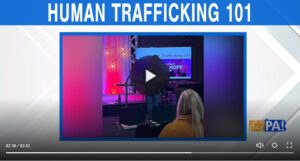 One LBC Counseling & Social Work student who participated in the simulation said the project was not only useful for creating awareness but also impacted her personally.
"Producing an entire trafficking simulation was certainly no small feat and required time, research, teamwork and abundant encouragement from (Social Work Professor) Dr. Ling Dinse," said Deanna Graber ('22). "There are many misconceptions and myths about people who are trafficked, and the simulation required me to ponder what it would feel like to be without resources and connections, or to feel completely trapped when every door of escape slams in one's face. I now also have a deeper compassion for individuals whose complicated life looks entirely too similar to the simple simulation we created."
"Good Day PA" airs at 10 a.m. each weekday and features opportunities to learn about local business offerings, connect with nonprofit groups, meet local authors, watch performances and learn from cooking demonstrations.
If you suspect you've encountered a victim of domestic sex trafficking or witnessed a trafficking situation, call the National Human Trafficking Resource Center at 888.373.7888.