EXCITING UPDATE! After his internship at Amazon, Matthew was offered a full-time job as a Loss Prevention Specialist over all Amazon Global Specialty Fulfilment sites in the state of Nevada. He is based in Las Vegas for this role, and works to protect assets, data and property. During the internship that led to this position, Matthew was responsible for closing nearly $80,000 in theft cases in nine weeks. He reports, "This was done through complex data analysis, coupled with forensic interviewing and support from our local police department." Read on for more of this success story…
---
Shoppers around the world click on Amazon.com every day—sometimes multiple times a day—and one LBC | Capital student will soon be right at the core of all that clicking.
Criminal Justice major Matthew Wiggins ('21) was hired for a corporate internship with Amazon and will be featured in the global company's upcoming newsletter wearing his LBC gear. Read more about Matt's summer internship as a Loss Prevention Specialist and the journey that led him to the business powerhouse.
LBC | CAPITAL: Tell us about the path that led you to an exciting internship at Amazon.
MATTHEW WIGGINS: When I first came to LBC, I planned on going into law enforcement. With that ambition, I immediately began hunting for internships in that field. My first Internship was at the Lancaster County District Attorney's Office in its Digital Forensics Unit. I started my sophomore year and continued for two semesters. Through that internship, I realized that while the field was still my area of interest, the sector needed to shift from public to private.
Few people enter Criminal Justice programs with the thought that they want to work in the private sector. Most want to be police officers, victim advocates, prosecutors, etc. I initially fit into this category, but late into my sophomore year, the private sector started to come into focus for me. I started looking into corporate internships, even landing one at another large corporation that was cancelled due to COVID-19. This was difficult because I couldn't see the reason God would allow me to lose an internship that would have given me such amazing experience. As it turns out, as usual, God's plan was better and completely invisible to me at the time.
At the beginning of the fall 2020 semester, I got a call from my sister who is a young professional in Seattle, Washington. She wanted to connect me with a new friend of hers who happened to be a Senior Investigator at Amazon. I got on the phone with this person who told me all about his position at Amazon. At the end of the conversation, he began talking about the internship that propelled him into this position. Needless to say, my interest was piqued! We started having long Zoom calls every week, preparing me to compete for such a nationally sought-after position. We spent weeks working on my LinkedIn profile. Then I connected with just about every Amazon recruiter, area manager, senior investigator, loss prevention personnel, etc. Lastly, we spent hours on interview preparation and mock interviewing.
I applied for the internship immediately upon its release. After many forms, questionnaires and interviews, I was chosen to be hired for Amazon's summer Loss Prevention Intern in Phoenix, Arizona!
LBC: What will your internship at Amazon entail?
MW: The purpose of my internship is to ensure the protection of Amazon's people and assets within the Fulfilment Center where I will be based. My responsibilities will all focus toward providing security services and protection for Amazon's employees, contractors and assets. I will be tasked to support the efforts of the loss prevention team in the implementation of standardized, cost effective and efficient security services programs.
LBC: What are your career aspirations after graduation from LBC | Capital?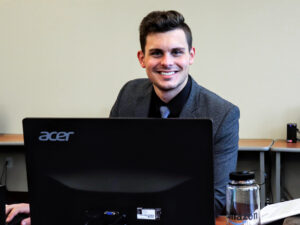 MW: After graduation from LBC, I hope to be solidly on the path to a position as a Senior Investigator at Amazon within two years. Long-term, I aim to climb the ranks by providing tremendous value and driving innovative solutions at every step of my career.
Q: How has LBC | Capital prepared you for working in the "real world"?
MW:  Thanks to LBC's courses and professors, I know my given field inside-out and backwards. The focus of the instruction in the Criminal Justice program has been to expose the students to the maximum number of industry professionals from a broad spectrum of professions. It cannot be overstated the importance of the addition of my Legal Studies minor. This has given me the access to a broader range of courses to include those such as Business Law, Employment and Labor Law and other classes I may not have been able to take as strictly a Criminal Justice student. These courses have allowed me to expand my knowledge base into areas more compatible with my chosen career path in the corporate sphere.