Lancaster Bible College | Capital Seminary & Graduate School is excited to announce a new, fully online Master of Arts in Strategic Communication Leadership degree. With classes beginning in Fall 2022, enrollment is now open for this program geared not only to LBC | Capital graduates from the Communication & Media Arts Department but also to those who are seeking to develop their communication and leadership skills in their current professional roles.
One benefit for those who graduated from LBC | Capital with their undergraduate degree is that they are eligible for Advanced Standing, meaning those students are not required to take the 4 credits of Bible & Theology courses. Current or enrolling undergraduate students also have the option of pursuing the 4+1 program, meaning that students earn their bachelor's and master's degree in just five years total.
LBC | Capital asked three leaders and faculty members within the Master of Arts in Strategic Communication Leadership degree about the process behind creating the program, the benefits to students and how the courses will help professionals in a variety of fields.
Ryan Geesaman is an Assistant Professor and Chair of the Communication & Media Arts Department. He's been involved in media and technology since junior high school, and while he spent a good amount of time on the stage in high school and college, his professional career has been mainly behind the scenes. Having served as Video Production Director for a local, multi-site church for several years, he is also an award-winning film editor and oversees LBC's Media Arts Production program.
Dr. Michael Freeman is an Associate Professor and Communication Program Director. He has taught and mentored communication students for the past two decades and prepared students to excel in the fields of television, radio, print journalism, marketing and public relations. His research passion is the intersection between audiences and mass media, and he has presented at numerous conferences on the effects of media. At LBC, he advises several student-run publications and was instrumental in the creation of LBC Radio.
Thom Scott, a faculty member in the Communication program, has an advertising and marketing background. He has worked in both business-to-business and business-to-consumer environments in over 50 different industries. He is passionate about having kingdom impact through helping his students learn valuable marketplace skills while growing their vision for how God's Word and their faith can guide them in the workplace. He also continues to serve as an advisor to for-profit and non-profit organizations.
LBC | CAPITAL: What were the main reasons for LBC | Capital to add a Master of Arts in Strategic Communication Leadership degree? Why was the timing right?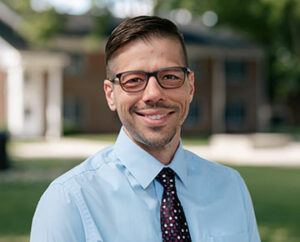 RYAN GEESAMAN: LBC | Capital's BA in Communication is a very practical degree with the potential to enter many different career fields. The Master of Arts in Strategic Communication Leadership (MASCL) is a natural extension of this successful undergraduate program, providing practical advanced training in a growing area of communication with a focus on leadership. We wanted to be able to provide an option for those looking for the next level of education in the communication field: our current students, alumni and even those new to LBC | Capital. Dr. Michael Freeman had been dreaming of this master's program for years, and with the addition of Professor Thom Scott and Dr. Mark Menga to our department, we had the expertise to launch it.
LBC: What was involved in designing the Master of Arts in Strategic Communication Leadership program at LBC | Capital? How did you decide what should be included in the online coursework?
MICHAEL FREEMAN: The CMA department has always had a strong desire to create practical and in-demand degrees that integrate a biblical worldview. With this approach, our current undergrad communication students are being hired in a variety of non-profit, ministry and small/medium business settings. There, they are often finding themselves leading the communication efforts of those ministries and businesses. The MASCL degree was developed to help support students in these roles and to provide them with education and experience to excel in leading communication efforts and teams. This degree is also designed to support those employees seeking to move into these communication leadership roles.
In constructing this program, we listened to our internship supervisors, ministry/business leaders and alumni to determine the skills, topics and experiences that would not only help our graduates succeed professionally but would also help them navigate the intersection between their faith and their vocational calling. The MASCL covers everything from practical skills like analytics and consulting to foundational principles of ethics and leadership. Throughout their coursework, students will be exposed to both leading communication researchers and practitioners who help to provide a variety of perspectives on these topics, from both data-driven investigation and firsthand experience.
LBC: What are some of the advantages of the 4+1 program, and why is it beneficial for students to complete their masters upon graduating with their bachelors?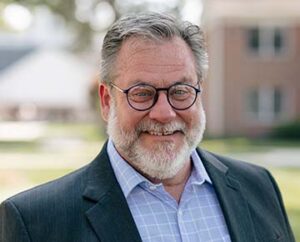 THOM SCOTT: Let's face it, there are many who hope or intend to achieve their master's degree "one day." For most, the demands of life beyond the classroom take over to delay or derail those good intentions. The 4+1 program offers an ideal way for an undergraduate student to capitalize on their momentum while their knowledge is fresh and their academic habits are sharp. Additionally, since some of the master's level courses are integrated into the curriculum of the 4+1 student before they complete their internship and senior project, the workload for the "+1" year may be significantly reduced.
LBC: What are some of the aspects that make LBC | Capital's Master of Arts in Strategic Communication Leadership program unique?
RYAN GEESAMAN: Strategic communication is important in both for-profit and nonprofit sectors, but our program has a strong connection to nonprofits and ministries through the experience of our faculty. Ministry leadership—or, at least, servant leadership—is the cornerstone of this program. Our desire is to prepare highly skilled communication leaders who make decisions through a biblical worldview. It is also a flexible program, in that a student can decide to take two courses at a time and finish in one calendar year, or a busier student can take one course at a time over two years.
LBC: Why is it important for communication professionals to take the next step on their educational journey and earn a master's degree?
MICHAEL FREEMAN: The Master of Arts in Strategic Communication Leadership degree is designed to complement an undergraduate degree in communication or a related field. With the range of skills that are now required of communication professionals, there simply isn't room in the curriculum of undergraduate programs to provide focus and depth into leadership strategies and the types of issues, controversies and decisions that leaders have to be prepared to face. The MASCL provides that additional focused study along with the insight and advice from communication industry leaders. If God is calling you into a communication leadership role at your ministry or business, this program is for you.
LBC: What are you looking forward to most about teaching within the online Master of Arts in Strategic Communication Leadership program at LBC | Capital?
THOM SCOTT: There is a great need for well-trained, godly leaders in the communication arena for both nonprofit and for-profit organizations. I am excited because I believe our MASCL program offers an unrivaled combination of sound philosophical underpinnings, practical hands-on application and guiding biblical principles that will make our graduates stand-outs in their professional endeavors and effective in proclaiming Christ by how they serve. I'm looking forward to developing one-on-one relationships with each student to help them fulfill their God-given vocational calling.