(This article originally appeared in the Fall 2022 ECHO Magazine.)
On a typical day at Lancaster Bible College, Tony Bruno puts on a jacket, gathers his teaching plans and heads to the classroom—arming students with biblical knowledge that will serve them for a lifetime and help them defend their faith in a world that isn't always receptive.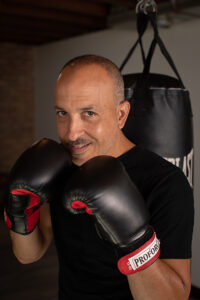 But on other days, he wraps their hands, passes them a pair of boxing gloves and equips them with a completely different kind of defense—one of resiliency, confidence and strength.
An LBC | Capital faculty member in both the Bible & Theology and Arts & Sciences departments, Bruno's unique experiences, coupled with his love for teaching and for boxing, make their way daily into his teaching style and his personal interactions with students.
"I was so influenced by my own college studies," Bruno says. "I would look at my professors and wish I could be them one day. That feeling never left me."
But long before he stepped into an LBC | Capital classroom, Bruno had a passion for boxing. "I've been a boxing fan my whole life, since I was a little kid," he says.
He had boxing aspirations for himself but grew up in a Philadelphia neighborhood without any gyms. Around the age of 27, Bruno met the leader of a Philadelphia boxing ministry who began teaching Bruno boxing skills. Even though both coach and student discovered that Bruno had a propensity for boxing, they also realized he was likely past the age to start a competitive career. So Bruno began to coach others in the sport he loved.
"I've always enjoyed teaching, so coaching came naturally," he says. In one of the most crime-ridden neighborhoods in the country, Kensington, coaching boxing for eight years opened incredible doors to mentor young men and share the gospel.
The Philadelphia boxing ministry wasn't Bruno's first foray into inner-city and urban outreach. After graduating from the University of Valley Forge, he booked events and wrote for The Cross Movement, a hip-hop ministry based in the City of Brotherly Love that reached cities nationwide.
During that time, he met and became friends with the Rev. Zachary Ritvalsky, then-faculty member at LBC | Capital – Philadelphia and a local pastor. Once Ritvalsky, who today serves the college as Vice president of Institutional Alignment, was named Site Director at LBC's Philadelphia location, he persuaded Bruno to join the team as Assistant Professor and Director of Bible and Theology.
Actually, it didn't take much persuading.
"In some sense, it was a dream come true," Bruno says. "I had always been known as a teacher-preacher, and I love learning. When I got a position like that, I knew it was the beginning of something long-term for me."
During his time in ministry, Bruno also served as a co-pastor of Crossover Church in Tampa, Fla., a church reaching mostly urban young adults, as well as filled additional church needs, such as helping regional churches who needed interim pastors. In fact, he connected one of his LBC | Capital graduates, David Hiester ('20), with Ebenezer Bible Chapel in Chester County just as Bruno was transitioning out of an interim role there. Today, Hiester serves the Ebenezer congregation as its pastor.
While teaching in Philadelphia from 2016 to 2020, Bruno and his family—which includes his wife, Cheila, who's taught Spanish in Elementary Education for 15 years and now serves preschoolers in the Intermediate Unit since 2018; daughter Carina ('26), a freshman Communication major at LBC; and two boys, Anthony and Joshua—moved in 2018 to Lancaster, just a mile down the road from the Eden Road campus. He continued making the long commute to Philadelphia until a faculty position opened in Lancaster.
Regardless of the level, major or type of student he teaches, Bruno longs for the LBC mission to be transformational, as he says, "to learn and live a biblical worldview, to serve society, and to live within the framework of the gospel and see themselves as players in it."
With those passions guiding his teaching, Bruno quickly settled into his "dream job" at the undergraduate level at the Lancaster campus, but he didn't let go of his passion for boxing or the powerful memories from his involvement with the boxing ministry years ago.
So during the 2021-22 academic year, Bruno offered what was most likely Lancaster Bible College's first-ever boxing class, which is continuing in 2022-23. Meeting for an hour a week in the Student Activities Center, Bruno equips his small group of students with boxing skills and the lessons that go along with them, such as building confidence and becoming more resilient.
There's no equipment or punching bags—yet—and students are encouraged to purchase their own boxing gloves, but the lessons learned in the multipurpose room each week are invaluable. Bruno marvels at some of the boxing talent that has emerged from those classes—from two female students, in particular.
"It's great to see their confidence build up," he said. "For whatever reason, the levels of anxiousness in this generation at any given moment are pretty high. To watch them come out of their shell and build confidence is amazing. Boxing does that."
It's a fair question, Bruno acknowledges, when others ask him about the seemingly obvious dichotomy between living a Christian life and engaging a sport essentially rooted in violence. He points to his ministry experiences as an explanation.
"The number of times I've had to deal with a young man at the gym giving me trouble is less than 1%," Bruno says. "That's because, especially for the young men in the ministry, they needed the things they never got because of the epidemic of fatherlessness." The young boxers were shown discipline, structure and confidence—"and they responded."
"Their whole lives," Bruno continues, "they distrusted authority—teachers—and ran from authority—cops—but now they're taking instruction and thriving. And it's all rooted in the gospel."
Two fighters from the Philadelphia ministry became professional boxers, likely saving them from life on the streets, in prison or worse.
"Making it as a boxer is difficult," he says. "But our influence helped many of them get good jobs and promising careers, putting them on a better path than what's laid out for them growing up."
With such great outcomes, is another boxing ministry on the horizon someday for Tony Bruno?
"It takes a huge amount of time and commitment," he says. "I love what I do now. People think I'm crazy when I say I love walking students through Scripture and I love boxing. I'm still an obsessed fan, but today, I just want to bless the students, even if they don't come from inner cities, and help them deal with issues—to have discernment, discipline and confidence to do what they have to do when it's hard.
"The best fighters keep getting up when they're knocked down," Bruno continues. "They get up again and again. I want that for our students."