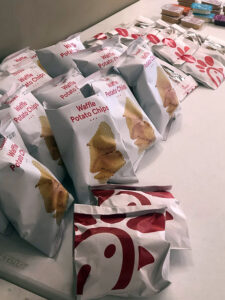 The phrase 'Closed on Sundays' can bring about various thoughts, but ultimately, many connect it to Chick-fil-A. Known as one of the largest fast food restaurant chains in America, Chick-fil-A also stands out to customers for its core values and principles. After all, Chick-fil-A's corporate purpose is to glorify God in all they do and make an positive impact on all they meet.
Marketing Director for the Lancaster Chick-fil-A and LBC alumna Lindsey Horning ('17) returned to her alma mater to share about leadership opportunities available through Chick-fil-A. LBC students from the Communication & Media Arts and Business Administration departments gathered to eat delicious chicken sandwiches, learn about the world of business and hear about the opportunities that may be ahead. Graduating from LBC with a bachelor's degree in communication, Horning said, "The communication major helped to prepare me for the business world as well as the communication world."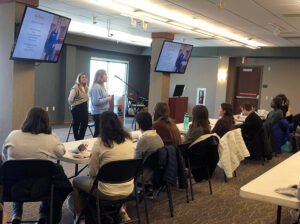 The Leadership Development Program at Chick-fil-A involves intentional growth and guidance in each person's life as they begin an accelerated track toward a management position. Students had the opportunity to not only listen to Horning's experience in the business world but also heard a testimonial from another recent Lancaster Bible College alumnus, Myranda Kemrer ('18). [Note: Myranda has since been named LBC's Director of Alumni Relations!]
A Sport Management major and Business Administration minor, Kemrer shared her journey of how she started working part-time at Chick-fil-A in college and ended up enrolling in the Leadership Development Program while going back to school for her master's degree in higher education. Kemrer also returns as an LBC | Capital employee as the new Director of Alumni Relations in the spring of 2022.
As events like these show, Lancaster Bible College cares about both the journey and the destination for students. Inviting ministries, businesses and organizations to share opportunities and guidance helps students explore various options for their future careers. It's easy to see that a college is different when alumni feel the desire to give back and stay connected.