Kristin Hurdleston ('21) has always had an affinity for journalism and performance. "I just always loved being in front of a camera," she said in an interview with the college via email. She's currently a dual major in communication and musical theatre at the Central Pennsylvania college. You may have even spotted her on stage in Lancaster Bible College's winter performance of the iconic musical, Bye Bye Birdie.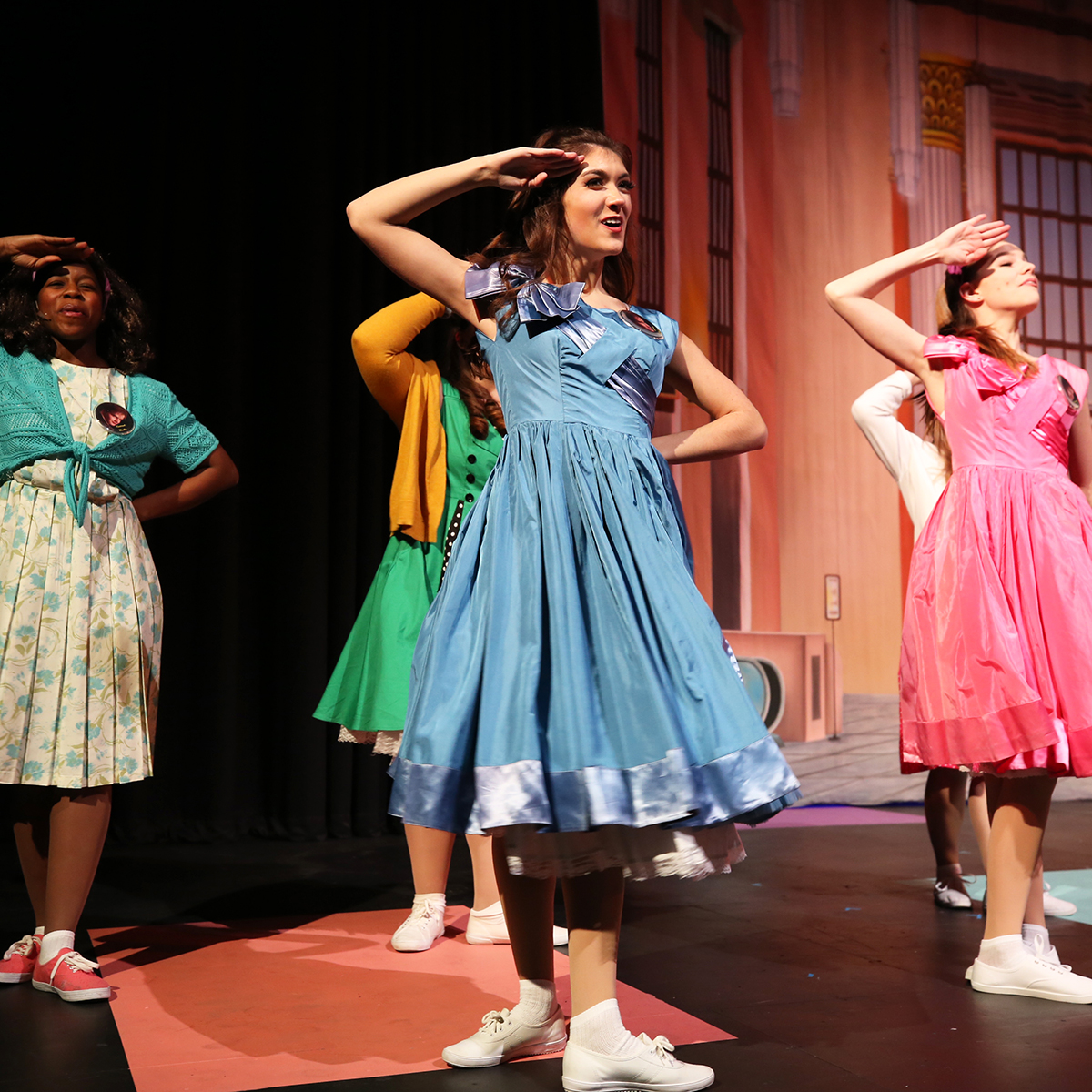 Above: Center, Kristin Hurdleston performs in Lancaster Bible College's early 2019 production of Bye Bye Birdie.
This summer, instead of kicking back and relaxing, she dove headfirst into in as intense of an internship as you can find: broadcast journalism. Hurdleston worked as a reporter intern at ABC27 in Harrisburg, Pennsylvania. While she's honed her acting chops on stage through performances, live TV exercises an entirely different skillset. So what did her day-to-day duties look like?
"Every day I came in around 9:30 and sat in on the morning meetings," said Hurdleston. "This is where the reporters would pitch story ideas and producers would choose what they wanted the reporters to pursue." After the stories were assigned, she shadowed the reporter of her choosing as they made phone calls, set up interviews and more. Once they loaded up their news van, Hurdleston would follow along, carrying tripods and other equipment. "Then, I would watch them do interviews and film their stand-ups and teases [news intros and promos] and then I would film my own for my reel," she explained.
Being around the breaking news scene was an incredibly educational experience for this would-be journalist. "You get to meet people and see things that you wouldn't normally get to see as just a civilian," explained Hurdleston. "For example, I was present at a reopened murder case as the police and FBI were searching for the body of a woman who went missing 30 years ago. They never found her, but I still wouldn't have known about the case or even got to see the things I saw if I didn't do this internship." She saw plenty more news stories on the job – including her first day. "The first story that I ever went on was in the Rotunda at the Capitol, she said. "There was a rally led by inner-city superintendents who were asking for more money for their schools. Just about every news network in Central PA was there, so it was great to be in that busy news atmosphere for my first day."
While she was never on-air as a reporter, Hurdleston said the up-close experience watching seasoned journalists doing the hard work of uncovering a story from start to finish was eye-opening. "I was in the background of some in-studio live shots and I demonstrated a few things in some packages [news framed as a story] and VOSOTs [story with anchor reading script over top of it]," she said. Hurdleston also noted the reporters at ABC27 were quick to give her opportunities to refine her budding journalistic instincts. "I was kind of thrown into the first stand-ups and teases I ever filmed, but that was a good thing," she said. "The reporter I was shadowing asked me if I wanted to film one and start making my reel, so I said yes. I got in front of the camera and really had no idea what I was doing, but she was able to guide me and help me make it look as good as possible. The more I filmed, the better they got. I watched my reel recently and I saw the improvements that happened over time. I'm just so thankful that I was able to work with encouraging reporters and videographers who were so eager to help me succeed without any judgment."
Above: Hurdleston on location with ABC27.
She also learned just how much work the craft requires. "I didn't realize everything that reporters have to do," said Hurdleston. "ABC is moving away from sending out videographers with every reporter, so the reporters have to be multi-media journalists. As a reporter, you not only have to do the interviews and all of the talking, but you also have to shoot all of your footage, write it and edit it by the deadline." That amount of work requires an immense amount of skill, good time management and real passion, noted Hurdleston. "I didn't really realize how heavy of a job it is. You have to be super passionate about news if you want to be a reporter because the news never stops."
Hurdleston says her education at Lancaster Bible College helped prepare her for the internship. "Through my classes, I knew that I was going into a field where every day changes," she said. "You have to be adaptable and open to what every day is going to bring you, and LBC equipped me for that." She said the communication major has really helped to give her the real-world skills she needs when she graduates. "I have friends and family at other schools who aren't required to do any internships before they graduate, but LBC pushes you to get that experience to mold you into a great, professional worker by the time you start that internship," she explained. "At LBC, you get to experience not only in the communication field of your choice but in all fields. For example, I got this internship in TV, but I also do a co-curricular at WJTL Studio B, and I'm taking a marketing class this semester. I know that if I choose to not do TV in the future, I will still be able to so many other things because LBC has trained me and prepared me in a variety of communication careers."
So, is broadcast journalism in the future for Hurdleston? "At this point, I don't know where God is going to lead me," she said. "I still want to look at the marketing field and explore that a little, but I know that if I had a career in broadcast I would totally be fine with that too! I've had a lot of fun at ABC and learned a lot. Ideally, I would love to be an anchor. That's always been a dream of mine, but again, we have to see where God leads me!"