Is college worth it? You're a high school student thinking about the next chapter of life; how could you ignore it when so many people keep asking you, "What are you going to do after you graduate? Have you applied to any colleges? What career are you looking into?"
You've considered college and, like many, have questions about how you will afford it without going into significant debt after graduation. Some ask if it would just be better to start working right away and forego college. You're not alone in thinking this way, but statistics show that getting a college degree is actually financially beneficial in the long run.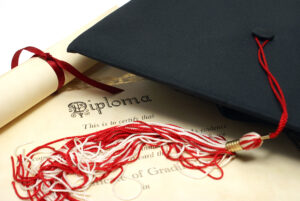 Attending college is a beneficial choice for many reasons. Socially, students make lifelong friends and find support from seasoned mentors. They are also exposed to a diverse student body. Personally, students develop career skills, life skills, experience character growth and, in a Christian environment like Lancaster Bible College | Capital Seminary & Graduate School, undergo spiritual development as well.
Occupationally, one has the opportunity to explore career options, network, receive specified training, work in a professional atmosphere through internships and practicums, and ultimately gain pertinent credentials. Not only is the college experience advantageous in these ways, but a degree also enables students to have a prosperous financial future with increased income and security.
Statistics show that obtaining a bachelor's degree is financially impactful. In an average year, college graduates ages 22-27 earn $52,000 compared to their high school diploma counterparts, who earn an average of $30,000—that's a $22,000 difference. "Overall … the return on investment for a college degree is substantial—worth upwards of $800,000 or more in increased earnings over a lifetime," according to the Money.com article, "The Wage Gap Between College and High School Grads Just Hit a Record High."
Job security is another benefit for those with a bachelor's degree. In 2021, the unemployment rate was 3.5% for those with a bachelor's degree, 2.6% with a master's degree and 1.5% for a doctoral degree. This is compared to 6.2% for those with a high school diploma and 8.3% for less than a high school diploma [source: Education pays: U.S. Bureau of Labor Statistics (bls.gov)]. During a crisis or economic decline like the recent COVID pandemic, employees who did not attend college can be the first to be let go.
Another financial benefit of attending college is high job-placement rates. For example, LBC | Capital has a job-placement average of 85%, which is on par with many other institutions of higher education. Many areas of study at LBC | Capital, including Business Administration, Counseling & Social Work and Health & Physical Education, place 100% of their students in the field after graduating.
More information about these and other highly successful LBC | Capital majors in the professional realm can be found below. Many of these programs have online options and/or master's degree possibilities: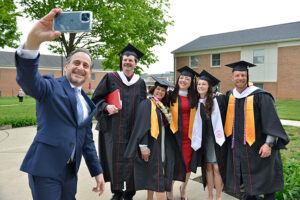 While the prospect of future financial gain is alluring, many prospective college students are reluctant to pursue higher education because of costs. This is a valid concern—one that LBC | Capital takes to heart. The college's financial aid team is eager to work with students of all ages to find the support they need through scholarships, grants, loans and work-study options. In one academic year alone, students can earn academic scholarships of $2,000 to $12,500. LBC | Capital also accepts outside scholarships without subtracting from their own tuition assistance; not every institution offers this option to stack scholarships. With financial support like this in mind, initial fears can be put to rest, especially when considering the possibility of future financial gain.
If you're not sure how to answer the barrage of questions heading your way as you consider what's next, college is a wise way to go. In addition to the positive social, personal and occupational aspects of college, statistics clearly show that having a bachelor's degree is more lucrative than having a high school diploma alone. Colleges like LBC | Capital successfully position students to go into their careers of interest with a sense of job security. Understanding the sometimes-daunting consideration of cost, most colleges assist in carrying that burden with scholarships, grants, loans and work-assist programs.
Need more reason to research the degrees at LBC | Capital? See what our faculty say!
"The pandemic taught us a lot of lessons, but one thing that companies, nonprofits and ministries have learned is how important communication is—both internally and externally. They are looking for dependable, trustworthy, ethical strategic communication professionals to join their teams. And that describes LBC | Capital graduates. Organizations are coming to us to find graduates to fill their open positions."
—Ryan Geesaman, Chair of the Communication & Media Arts Department
"The job market remains strong, and most of our Business Administration students are able to have multiple job offers as employers look for new talent. LBC business graduates have been in the market for several years, and we are seeing many of their companies come back and ask us about additional students."
—Martin Sauer, Chair of the Business Department
"Since 2010, at least 90% of our Health & Physical Education graduates are working as HPE teachers in either a public or Christian school. Over the past several years, a significant number of our student teachers have been offered positions upon the successful completion of student teaching. Administrative staff have stated that our HPE teachers are hired not only because of their command of the discipline but their high standard of moral conduct in and outside of the school setting."
—Dr. Tom Randolph, Professor of Health & Physical Education
"For graduates in education, the job market is strong. There are teaching positions available, and schools are working hard to find qualified candidates."
—Dr. Stacey Martin, Chair of the Education Department
If a bachelor's degree—with all its advantages—interests you, check out LBC | Capital. We would love to have you!
(Taylor Cowles and Kara Russo are both Business Administration majors at LBC | Capital.)