This past Mother's Day, Lancaster Bible College featured several mothers who work at the college and also have children attending LBC. So for Father's Day, we're catching up with a group of fathers who share the campus with their children, too!
Mikayla Randolph ('26 & '27), an Early Childhood Education/Special Education major, is thankful to attend the college where her father teaches. "Having my dad here at Lancaster Bible College has been such an encouraging experience for me," she shared. "In addition to being a tremendous support system, he is also fun to annoy when I have time. I enjoy witnessing him invest in his students and exhibit leadership through the way he carries himself. One of his favorite things to do is to make his students laugh, and he is pretty successful at it. He has helped me form a lot of close-knit relationships with my professors, friends and mentors here, and I am incredibly grateful for him."
Dr. Thomas Randolph, Health & Physical Education Professor, also enjoys the opportunities he has to see his daughter around campus. "It's been wonderful having my daughter, Mikayla, at LBC," he said. "I always enjoy her popping in and out of my office to say hi or sometimes to ask questions. It's exciting to witness first-hand the connections and relationships she's forming within the LBC community. I wouldn't change anything, she has grown so much in her relationship with the Lord."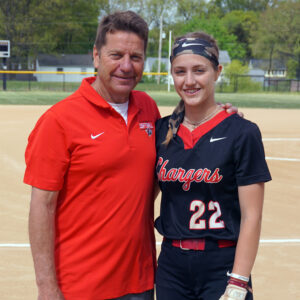 For Phoebe Clemens ('24), having her father be a part of her collegiate athletic journey has been a full-circle moment. "It has been a privilege to have my dad work at LBC," said the Sport Management major. "Family is important to me, and I enjoy having Dad be a part of my college experience. It is fun to grab lunch between my classes or drop by to say hi. I love seeing him interact with my friends or his co-workers because he has such a big heart and spreads Christ's love. Also, I had Dad as my softball coach throughout travel ball, so having him coach me at college is awesome. It makes school feel even more like home."
Softball Head Coach John Clemens never expected to coach at LBC but is thankful the opportunity presented itself. "Being able to support the LBC softball program and coach this great group of girls has been an amazing experience, and coaching Phoebe on her college team is an unexpected blessing," John said. "Our paths cross often due to team activities, practices and games, and it's great to catch up at other times. I love being able to share in her life at LBC but take care not to intrude. Working in the Athletic Department at LBC has given me an appreciation for how hard the staff works and how much they love and care about the students. I am grateful to Jesus for giving me this opportunity."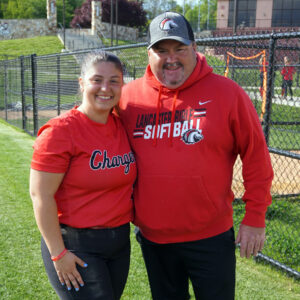 Mike Hamilton, Softball Assistant Coach, has also coached his daughter since she was a young girl, and now has the opportunity to coach her collegiately. "Coaching softball has been a passion of mine since Alyssa started to play at age 9," he explained. "Watching her grow in the sport has been so rewarding, and to now coach her in college must have been God's plan all along. Spending this time with her holds a special place in my heart that I will always cherish."
Alyssa Hamilton ('24), Early Childhood Education major, loves having her dad be a part of her LBC journey. "I have grown up playing softball with my dad either being my coach or helping as an assistant," she said. "I love that he gets to be by my side, making more memories together while playing college softball."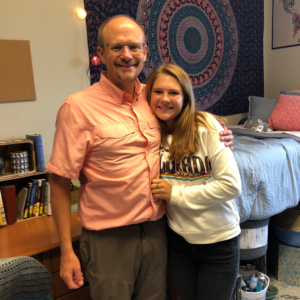 Marian (Blanks '23) McCrery appreciated being able to have her role model, her father, on campus while she was a student. "When I was studying on campus it was super fun to be able to stop by my dad's office and get to catch up with him every week," she said. "He is one of my greatest role models and I was so blessed to have him so close while I was a traditional undergrad student."
Likewise, Rob Blanks, who leads the Master of Arts in Contextualized Pastoral Ministry program within LBC | Capital's partnership with the Pastors Discipleship Network in Uganda and also serves as an Assistant Professor, enjoyed watching his daughter grow throughout her college experience. "I am deeply humbled and overjoyed to serve the church in Africa with LBC," he expressed. "Marian, having grown up in Mozambique, has a deep love for Africa, too. Getting to serve a school that brings together my daughter and our shared love for Africa is an unspeakable blessing. Seeing Marian sit under LBC's amazing Bible & Theology profs and grow in her faith is priceless to me as her father."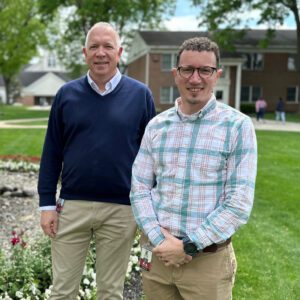 Dr. Sam Harbin and Dr. Justin Harbin both call LBC home as educators. Justin, who serves as Director of the Center for Teaching & Learning as well as Assistant Professor, said, "It has been a rare privilege to work alongside my father. We have been able to collaborate around designing courses together, and I've deeply benefitted from his feedback, friendship and insight as I pursue theological work within my discipline of education through biblical integration."
Sam, who serves as LBC's Bible & Theology Department Chair, echoed his son's sentiments. "It's been an absolute pleasure [working with Justin at LBC]. Our roles have reversed it seems—for most of his life, I was teaching him things. Now I'm learning from him, and learning lots. He's been helping me become a better teacher!"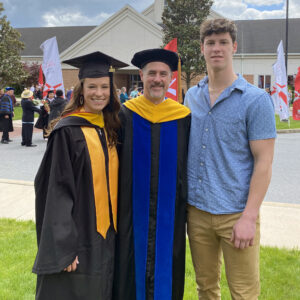 Dr. Kyle Kouterick, Professor of Natural Sciences, was able to share LBC's campus with not one, but two of his children. "It is a gift from the Lord to serve at LBC while my oldest son, Caden, is enrolled and my oldest daughter, Kymberly, is a recent graduate," he said. "I am so thankful to have respected colleagues and friends investing in my children's spiritual and worldview formation. They are being challenged and prepared for future vocations, while I am privileged to observe that development up close each semester. I enjoy drop-in visits to the science lab as they share struggles and victories. We have an LBC commonality that allows us to share stories and experiences on a deeper level, as opposed to them being at a different college. I am blessed by their encouragement, and I pray our interactions are an encouragement to each of them also."
Kymberly Kouterick ('23), a Healthcare Management major, recently walked across the stage at LBC's May commencement ceremony and expressed her gratitude for the time she shared with her father on campus. "It has been a blessing to attend the college where my dad works," she said. "He is one of my biggest supporters and he has continued to push and encourage me in all areas of my life, especially while at LBC. I enjoyed being a part of his classes, our lunchtime chats and seeing him around campus."
Business Administration major Caden Kouterick ('25), appreciates the opportunity to grow as an individual while still maintaining a close connection with his family. "My experience attending the college where my father works has been different than expected," he shared. "I've been able to grow and learn from my experiences, becoming independent, all while staying close with my family."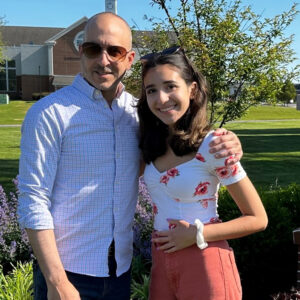 For Carina Bruno ('26), a Communication major, staying local for college and having her dad on campus was a comfort as she began her college journey. "My dad and I have the same theologically wired brain," she explained. "I have admired him and his intelligence since my earliest memories. Rather than saying goodbye to my parents and heading off to school far away, I take such comfort in knowing that I can see my dad on campus, attend his classes and visit his office at any time. It has been a unique and bonding experience for me so far."
Tony Bruno, Assistant Professor, said having his daughter on campus only adds to the overall experience of teaching at LBC. "When I thought I could not be prouder to teach Christian higher education to so many awesome students alongside such fabulous faculty at LBC, now seeing my daughter in the hallways and watching her absolutely excel and flourish in the place where God has both of us just puts it over the edge!"
Like the Koutericks, Jeff Hoover, LBC's Registrar, also has the privilege of seeing more than one of his children around LBC's campus. "I love seeing my children grow in their knowledge and spiritual walk at LBC," he said. "I am blessed to have the opportunity to see the mission of LBC fulfilled in their lives."
Thanks to Jeff's position at LBC, his daughter Sydney Hoover ('25), a Psychology/Clinical Mental Health Counseling major, was already familiar with LBC before she arrived on campus as a freshman. "I have been around LBC for a long time because of my dad, so attending LBC feels very comfortable and familiar, and it was always nice knowing that I knew at least one other person on campus."
Natalie Hoover ('26), an Early Childhood Education major, takes comfort in knowing her father is never too far away if she needs him. "I enjoy the familiarity my father has given me with the college, and I also appreciate knowing I always have him to help me out with anything I need with college."
Jeff's son, Jackson Hoover ('21) also calls LBC his alma mater. The Media Arts Production graduate now works at Rock Lititz, which is internationally recognized production powerhouse that works with artists like Taylor Swift, Justin Bieber, Beyonce, U2 and more.
Happy Father's Day to all these great dads, as well as all the fathers and father figures celebrating with loved ones this weekend!